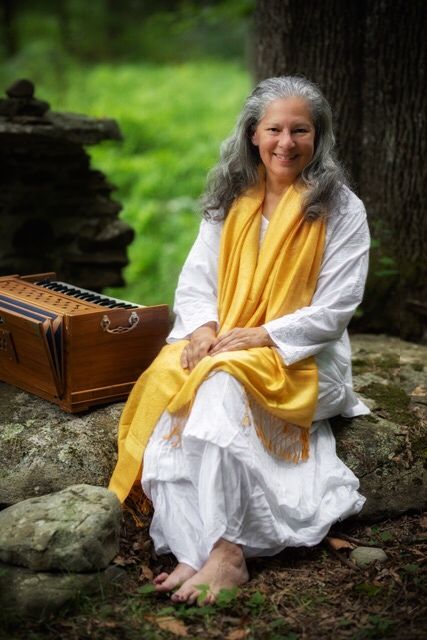 Miriam Zernis (vocals ~ harmonium) has been leading heart-opening kirtan and sacred music events with great joy since 2007 in NY, CT, Costa Rica, Canada, and Europe.  
Her inspiration in opening to the Divinity of chanting comes from satsangs at the Sivananda ashrams and years of traveling with devotional music masters Deva Premal, Miten, and Manose, as well as time spent with Krishna Das, the late Shyamdas, Wah!, Snatam, and GuruGanesha Singh.  
Miriam has been practicing classical yoga since 1994 and teaching since 2001. She is an internationally certified Sivananda Yoga Acharya, Reiki Master, and a certified Holistic Health Coach.  She stepped onto the Bhakti Yoga path in 2006, retiring from a 21-year career as an ABC News editor/writer.
 She also facilitates mantra chanting and yoga philosophy sessions for teachers' training programs and as well as workshops and retreats.
Previous events
Join us for chanting followed by a delicious Indian meal! PLEASE RSVP. SUGGESTED DONATION OF $20
Mark your calendars and plan to be with us!
Summer is a great time to celebrate the light of consciousness that dwells within us all — and kirtan has the power to transform and uplift the soul, and open the heart.
Come and meet your own inner sun through the sweet practice of Bhakti yoga, in a night of easy chanting framed by eclectic sacred music to help you get out of your busy mind and drop into your heart.
We will gather outside under the trees and sky on the lovely Avant Garde lawn so bring your chairs, blankets, cushions, etc. for seating.
All are welcome - no experience necessary.
$20 pp
RSVP REQUESTED - CALL RON AT 203-481-8443 OR EMAIL avantgardect13@yahoo.com
Summer solstice time offers a beautiful opportunity to discover and deepen our connection to the light within each of us. Join Khem, Sita, and Lydia for a sweet community gathering -- connecting the magic of ceremonial cacao and kirtan (easy, call & response chanting) as we prepare our spirits for and welcome the summer months ahead with high vibes.
Come sip cacao, sing, listen, meditate and find your mind-calming, your heart opening, and a deep feeling of wellness and wholeness.
Limited Space is available, please register today to secure your attendance!
$60 pre-payment